Correlation Between miR-223 Expression and Rheumatoid Arthritis
Angelika A

Student Indonesia International Institute for Life Sciences

Carren Kwoknata Djohan

Student Indonesia International Institute for Life Sciences

Nadya Marcelina Julianto

Student Indonesia International Institute for Life Sciences

Tiffanny Adora Putri

Student Indonesia International Institute for Life Sciences

Vivi Julietta

Student Indonesia International Institute for Life Sciences

Nanda Risqia Pradana Ratnasari

Indonesia International Institute for Life Sciences
Keywords:
Rheumatoid arthritis, microRNA, miR-223, autoimmunity, inflammation
Abstract
Patients diagnosed with rheumatoid arthritis (RA) show symptoms of joint affiliations. Focusing on the epigenetic factors leading to RA, the expression of several miRNAs are assumed to be one of the components influencing the cause of RA. Consequently, the increased expression of miR-223 is hypothesized to be involved in the pathogenesis of RA. This study aims to analyze the increased expression of miR-223 of RA patients in comparison with the normal and healthy representatives. Five methods from five different studies were involved in this review. The RNA was first isolated from heparinized venous blood or peripheral blood of RA patients and healthy controls. Reverse transcription was done to convert isolated RNA into cDNA and the expression of miR-223 was then measured using real-time PCR. The expression of miR-223 had exhibited a considerable increase in its concentration on RA patients when compared to healthy controls. Besides, the heightened concentration is taken upon consideration as miR-223 has a role in the regulation of the immune system and inflammatory responses.
Downloads
Download data is not yet available.
References
Churov, A. V., Oleinik, E. K., & Knip, M. (2015). MicroRNAs in rheumatoid arthritis: Altered expression and diagnostic potential. Autoimmunity Reviews, 14(11), 1029–1037. https://doi.org/10.1016/j.autrev.2015.07.005
England, B. R., & Mikuls, T. R. (2019). Retrieved October 12, 2020, from https://www.uptodate.com/contents/epidemiology-of-risk-factors-for-and-possible-causes-of-rheumatoid-arthritis
Fulci, V., Scappucci, G., Sebastiani, G. D., Giannitti, C., Franceschini, D., Meloni, F., . . . Macino, G. (2010). MiR-223 is overexpressed in T-lymphocytes of patients affected by rheumatoid arthritis. Human Immunology, 71(2), 206-211. doi:10.1016/j.humimm.2009.11.008 Hirota, K., Hashimoto, M., Yoshitomi, H., Tanaka, S., Nomura, T., Yamaguchi, T., Iwakura, Y., Sakaguchi, N., & Sakaguchi, S. (2007). T cell self-reactivity forms a cytokine milieu for spontaneous development of IL-17+ Th cells that cause autoimmune arthritis. The Journal of experimental medicine, 204(1), 41–47. doi:10.1084/jem.20062259
Huang, R.-Y., Wu, J.-Q., Liu, Z.-H., & Sun, S.-L. (2019). MicroRNAs in rheumatoid arthritis: what is the latest with regards to diagnostics? Expert Review of Molecular Diagnostics, 19(5), 363–366. https://doi.org/10.1080/14737159.2019.1599716
Khalifa, O., Pers, Y., Ferreira, R., Sénéchal, A., Jorgensen, C., Apparailly, F., & Duroux-Richard, I. (2016). X-Linked miRNAs Associated with Gender Differences in Rheumatoid Arthritis. International Journal of Molecular Sciences, 17(11), 1852. doi:10.3390/ijms17111852
Kooijman, R., & Coppens, A. (2004). Insulin-like growth factor-I stimulates IL-10 production in human T cells. Journal of leukocyte biology, 76(4), 862–867. https://doi.org/10.1189/jlb.0404248 Lu, M. C., Yu, C. L., Chen, H. C., Yu, H. C., Huang, H. B., & Lai, N. S. (2014). Increased miR-223 expression in T cells from patients with rheumatoid arthritis leads to decreased insulin-like growth factor-1-mediated interleukin-10 production. Clinical and experimental immunology, 177(3), 641–651. https://doi.org/10.1111/cei.12374
Murata, K., Yoshitomi, H., Tanida, S., Ishikawa, M., Nishitani, K., Ito, H., & Nakamura, T. (2010). Plasma and synovial fluid microRNAs as potential biomarkers of rheumatoid arthritis and osteoarthritis. Arthritis Research & Therapy,12(3). doi:10.1186/ar3013
Shibuya, H., Nakasa, T., Adachi, N., Nagata, Y., Ishikawa, M., Deie, M., . . . Ochi, M. (2013). Overexpression of microRNA-223 in rheumatoid arthritis synovium controls osteoclast differentiation. Modern Rheumatology, 23(4), 674-685. doi:10.3109/s10165-012-0710-1
Taha, M., Shaker, O. G., Abdelsalam, E., & Taha, N. (2020). Serum a proliferation-inducing ligand and MicroRNA-223 are associated with rheumatoid arthritis: Diagnostic and prognostic implications. Molecular Medicine, 26(1). doi:10.1186/s10020-020-00199-7 Taïbi, F., Meuth, V. M.-L., Massy, Z. A., & Metzinger, L. (2014). miR-223: An inflammatory oncomiR enters the cardiovascular field. Biochimica Et Biophysica Acta (BBA) - Molecular Basis of Disease, 1842(7), 1001–1009. https://doi.org/10.1016/j.bbadis.2014.03.005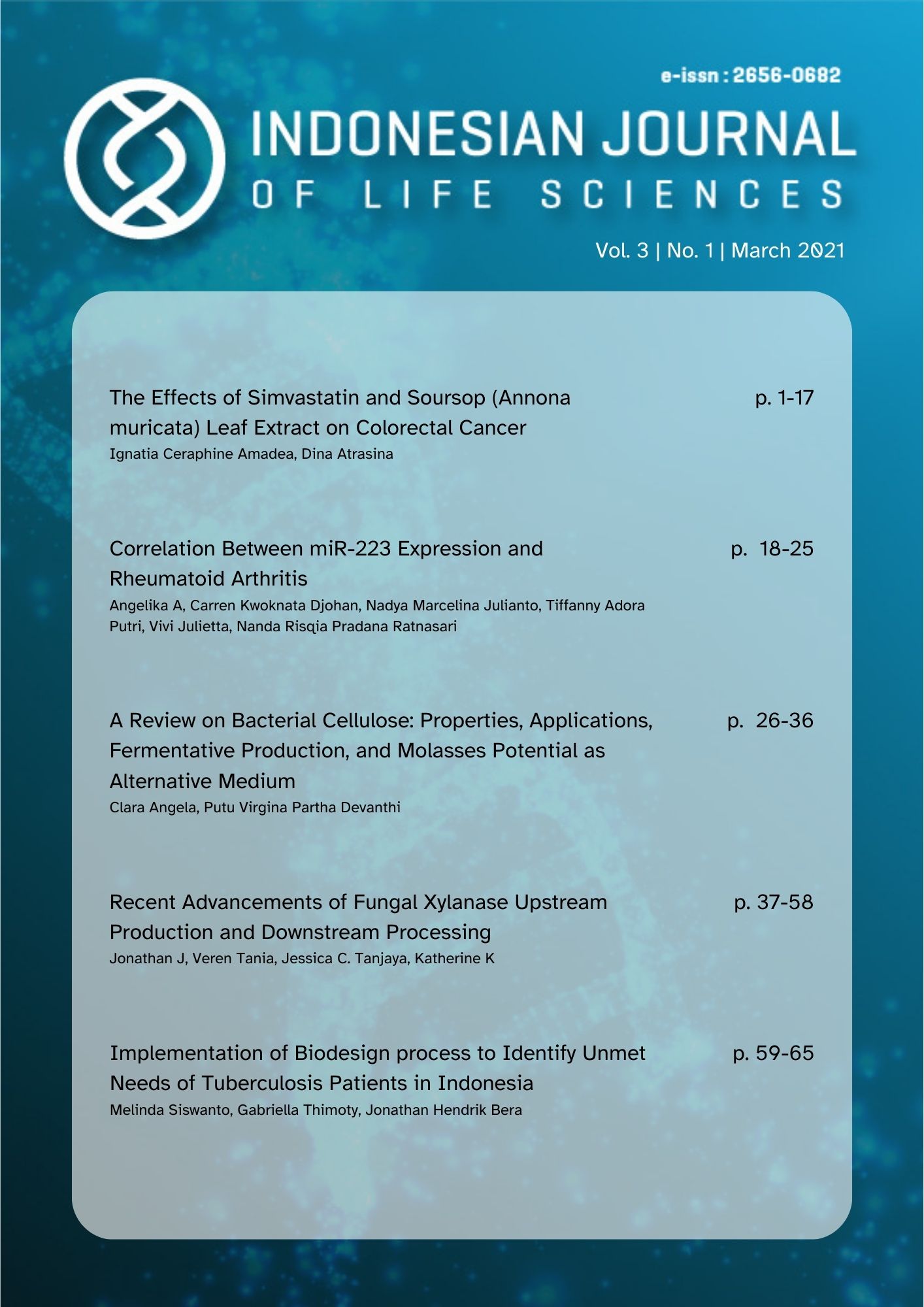 Section
Indonesian Journal of Life Sciences

This work is licensed under a Creative Commons Attribution-NonCommercial-ShareAlike 4.0 International License.
Click here to view our copyrihght notice.